Earn & Learn Rewards Program
Does your pharmacy purchase APIs, excipients, equipment or supplies? Does the pharmacy staff need Continuing Education (CE) credits? If the answer is YES to both questions, then Spectrum's new Earn & Learn program is perfect for the entire pharmacy staff and budget.


Program Overview
Spectrum's Earn & Learn program is simple - and totally FREE. Just sign up, then continue ordering products from Spectrum and we'll reward your pharmacy with fantastic scholarships* towards any live compounding class offered at SpectrumPharmacyInstitute.com (SPI).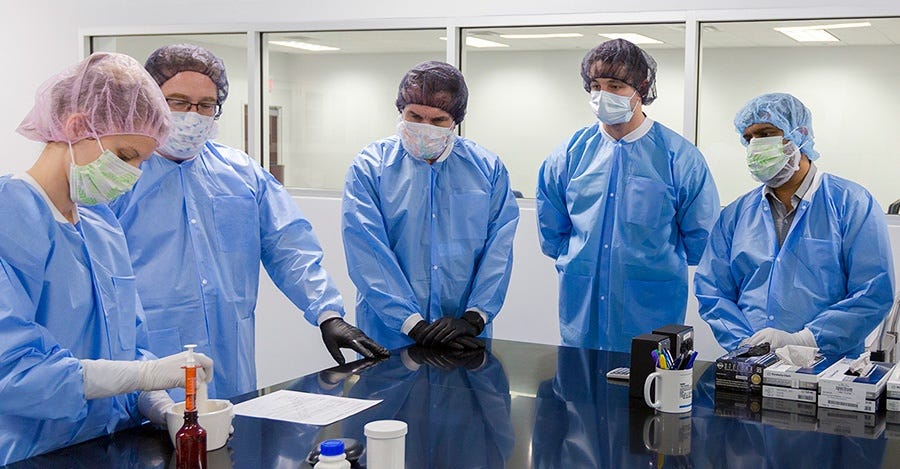 Scholarships
The pharmacy will earn credit at a rate of 3% on any net spending with Spectrum Pharmacy Products. When your pharmacy's credit reaches $250 (by means of purchases since signing up for the program), Spectrum will reward your pharmacy with a $250 scholarship* to be applied to any SPI compounding class.


*Restrictions
Scholarships may only be used for a single registration for a single class and may not be combined with other scholarships. Scholarships may not be used for SPI classes occasionally offered at special pricing. Scholarships may not be used for SPI Online Courses.


How to Redeem
Once your pharmacy has earned a scholarship, we'll note it in your pharmacy's account, including the date of the award and expiration. When a staff member registers for a class, use the promo code "SCHOLARSHIP" to apply the $250 credit to that registration.


Scholarship Expiration
Scholarships will expire one (1) year from the date of being awarded.
Scholarships will be awarded on the first day of the month after your pharmacy achieves $250 of credit. For example, if you receive a scholarship on December 1, 2018, your pharmacy will have until November 30, 2019 to redeem the scholarship.


Other Benefits

As a Spectrum Earn & Learn program participant, your pharmacy will gain access to exclusive participant-only promotions.
Compounding Courses
Spectrum Pharmacy Institute (SPI) offers multi-day, live continuing education courses on a range of topics that can help your pharmacy staff improve their compounding skills and expand the pharmacy's business. To view available SPI courses, visit SpectrumPharmacyInstitute.com.
Other Program Rules and Regulations
By enrolling in the Spectrum Earn and Learn program as a "Participant" you acknowledge that: (i) the program is not mandatory in order to purchase products from Spectrum Pharmacy Products or to register for Spectrum Pharmacy Institute educational courses; (ii) all transactions and activities relating to the program will be deemed to take place exclusively in the state of New Jersey, United States of America, regardless of where any program Participant may be located or reside; and (iii) all monetary amounts and fees relating to such transactions will only be expressed and processed in US dollars and Spectrum is not responsible for any exchange rate fluctuations that may affect the value that any Participant receives in any other currency.
You and we consent to the personal and exclusive jurisdiction and venue of the state and federal courts within Middlesex County, New Jersey. You and we also agree to litigate any disputes between or involving you and us exclusively in the state and federal courts within Middlesex County, New Jersey. You agree that any cause of action arising out of and/or relating to this program must be commenced within two (2) years after the cause of action accrues. Otherwise, such cause of action is permanently barred.
Spectrum reserves the right to alter any aspect of this loyalty program, including the right to apply changes retroactively to benefits already accrued by a Participant under the program. Spectrum may offer 'bonus' points or other promotional awards to enrolled Participants. Such offers are not part of the formal program. Spectrum reserves the right to modify or eliminate such offers at any time. All offers are void where prohibited by law.